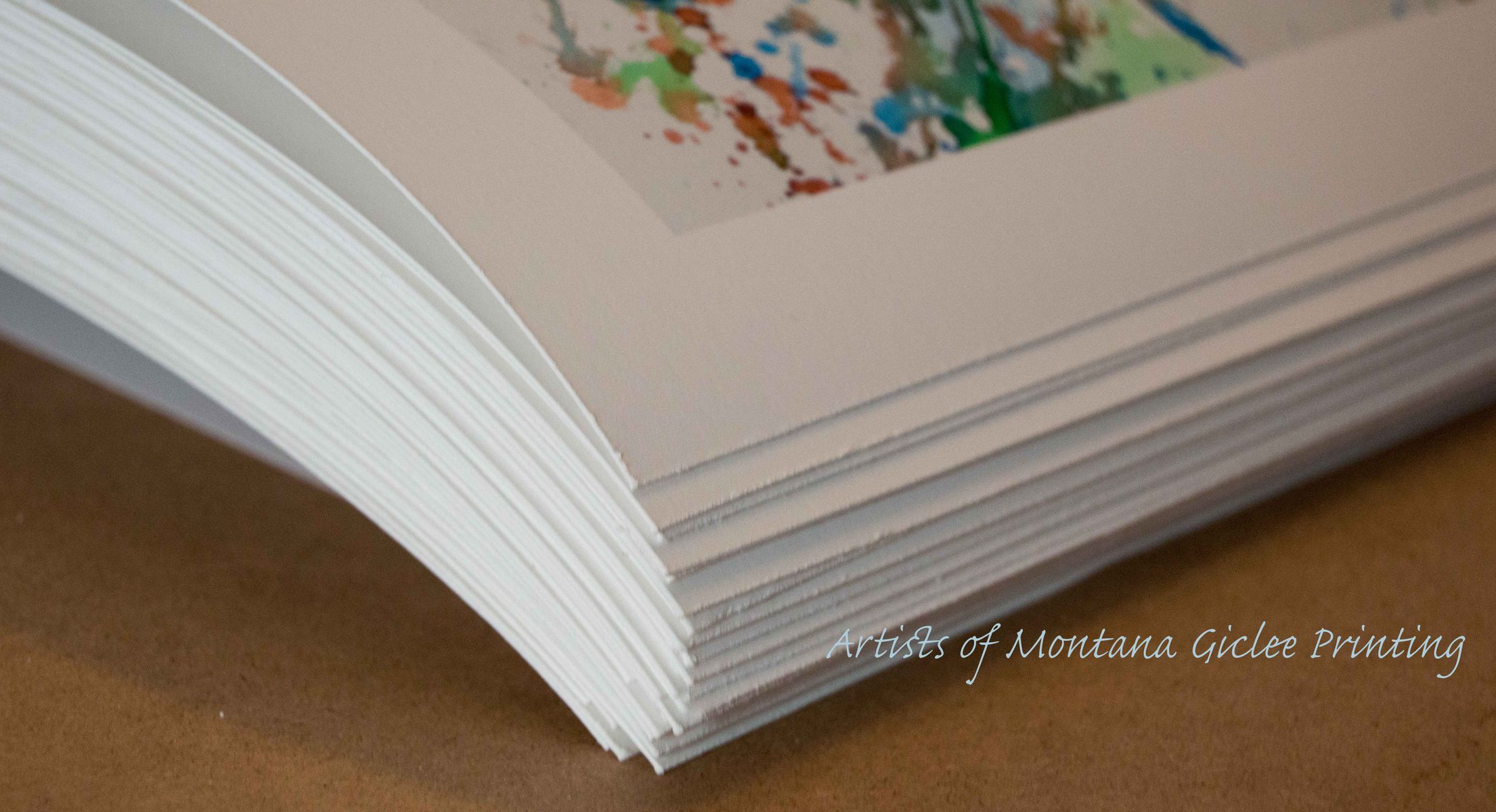 The papers below are my favorites I keep in stock and work with regularly, However I have books of other options available on special order if their is something you prefer! I offer a free sample mailing and/or free consultation in person if you want to see them for yourself! Note: Prices may fluctuate due to paper cost.
All papers are archival and intended for giclee printing. The term giclee refers to the style of printer utilized to render the print. Giclees are known for their archival inks and increased color gamut. Giclee printers boast 12 initial colors to mix from, where most standard professional color printers only have 4-6. This and the fact the print head is over 5 times as accurate, boasting the smallest printhead in the digital printing market, gives giclees a far superior color range and much more clarity.

Proofing
Proofing is a very necessary aspect of giclee printing, and it is one element of the process that sets the end product apart from a standard photo printer image. There is ALWAYS something that can be adjusted in any image to improve it. Sometimes this is a little exposure lightening, other times saturation or color adjustment, clarity sharpening to give your piece a more professional look. This being said, it is utmost importance that your art stays your own and that I help you get your art print looking the ways you like. Cost is above listed in the paper section do not reflect Proofing/set up Charges of $25 per image, and proofing is required on any large format print orders(greater than 9"x12").
If you are printing a small piece, 9"x 12" and under, I can bypass proofing costs for you unless you still want the benefit of the editing. If proofing is bypassed on smaller prints, a minimum of 2 prints applies to the order to help compensate me for formatting/delivery time etc. If you want me to mail these smaller prints without proofing, there is an additional $5 shipping charge. If it is a larger work (greater than 9"x12"), your image will improve so much after just checking a couple of details, such as clarity, exposure and saturation, so proofing is required on all larger print orders.
Included in Proofing
two 8x10 images, checking every detail of the piece (exposure, clarity, image quality, color matching to the original artwork. Prints come on a quality fine art hardboard with a plastic slip.
Title formatting with specified font, name, date etc included if desired.
Photo editing and color correction:
I follow your lead on how you want these to look with 1 on 1 support. I want you to be more than satisfied with your large giclee; whether it is a professional work or a gift you will see for years.