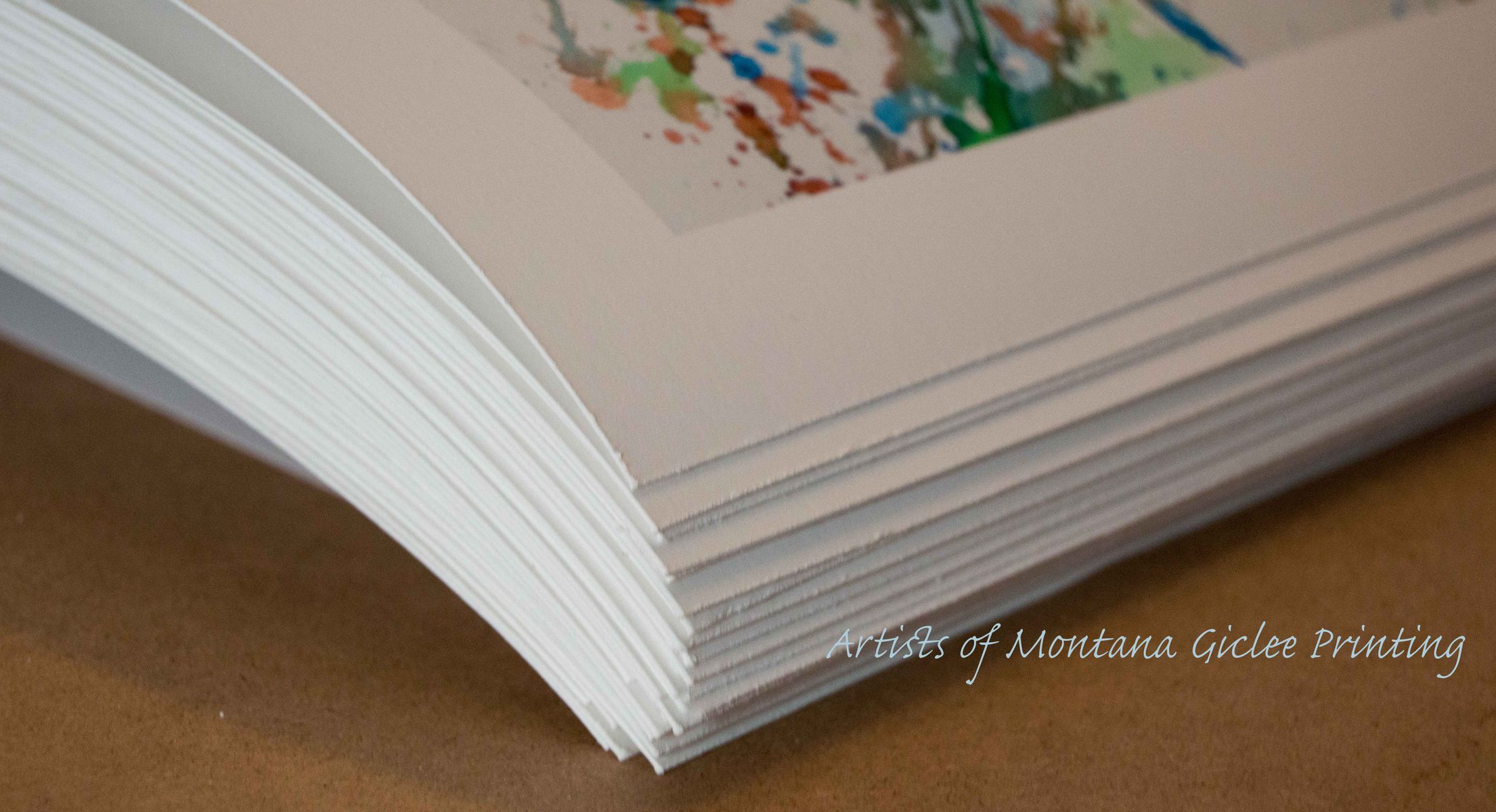 The papers below are my favorites I keep in stock and work with regularly, However I have books of other options available on special order if their is something you prefer! I offer a free sample mailing and/or free consultation in person if you want to see them for yourself! Note: Prices may fluctuate slightly due to paper cost. Quotes can be provided.
All papers are archival and intended for giclee printing. The term giclee refers to the style of printer utilized to render the print. Giclees are known for their archival inks and increased color gamut. Giclee printers boast 12 initial colors to mix from, where most standard professional color printers only have 4-6. This and the fact the print head is over 5 times as accurate, boasting the smallest printhead in the digital printing market capable of 1200 dpi. This gives giclees a far superior color range and much more clarity, not to mention value.
Certificates of Authenticity: Certificates letting the customer know their giclee is archival museum quality and printed on behalf of the the true artist and copyright holder is becoming more popular to include these days. I have designed custom certificates for professional artists or have an Artists of Montana Giclee version available for purchase to include with your quality print. Inquire if you are interested.

Proofing/Set up fee $35
Proofing is a very necessary aspect of giclee printing, and it is one element of the process that sets the end product apart from a standard photo printer image. I believe this is one of the things that sets a quality printer's approach apart from just downloading onto an online giclee provider and printing as is.
There is almost always something that can be adjusted in any image to improve it to look more like the original piece or capture the photograph. Sometimes this is a little exposure lightening, other times saturation or color adjustment, clarity sharpening to give your piece a more professional look. Proofing/set up Charges are $25 per image, and proofing is almost always required to ensure you are getting the quality you expect before printing a larger expensive print.
If you are printing a small piece, 9"x 12" and under, I sometimes bypass proofing costs for you unless you still want the benefit of the editing. If proofing is bypassed on smaller prints, a minimum of 2 prints applies to the order and there is an additional $10 setup fee and $8 shipping charge if that is necessary.
Included in Proofing
two 8x10 images, checking every detail of the piece (exposure, clarity, image quality, color matching to the original artwork. Prints come on a quality fine art hardboard or foam core with a plastic slip. Many artists use these to build a portfolio or can resell these prints.
Title formatting with specified font, name, date etc included if desired.
Photo editing and color correction: This is done to your specifications to color match as close as possible to the original work to obtain a quality, pleasing print. Keep in mind there is always slight variations in how an image translates to a print and some level of understanding this transition and limitations of the medium helps us find a happy compromise. Perfection after all is always just slightly out of reach, but a good eye helps shape every print into it's own work of art . Sometimes more editing and proofing is necessary. In this case with your approval, I charge hourly rates of $18 for extensive photoshop editing such as removing white backrounds or separating parts of your painting etc..
I follow your lead on how you want these to look with 1 on 1 support. I want you to be more than satisfied with your large giclee; whether it is a professional work or a gift you will see for years.
Don't want the hassle of proofing? Other options:
I have come across some rarer cases where the client has vast photoshop knowledge and prefers to provide their own editing or just does not want anyone else's touches on their piece. If this is the case we can arrange to do raw proofing where I do not manipulate your image in any way before printing (This is sometimes prefered by photographers with extensive photoshop backround). I still require purchase of a small print in this case before printing a large print just to make sure you are going to be completely satisfied with the final piece. I will charge $20 setup fee on this style of project.