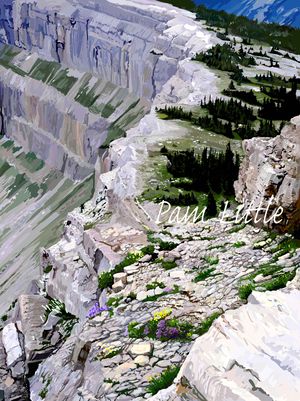 Featured Work, "Chinese Wall"
Acrylic on Canvas, Pam Little, Montana Artist
Pam Little Acrylic and varied Media
Pam Little, MA, FAMI is a Fellow of the Association of Medical Illustrators, with a BA in Visual Communications from Florida State University. She received her MA in Biomedical Communications from the University of Texas Southwestern Graduate School. Since retiring from a career in Biomedical Illustration, she has been creating fine art in both digital and traditional media. Her art is inspired by the light, flora and fauna around her home on Downing mountain outside Hamilton, MT, as well as landscapes and wildlife in the American west, particularly Yellowstone National Park.
website: www.PamLittle.com
PLittle@montana.com